So a few days ago there was a huge march in the USA by people who are opposed to something – it may be socialised healthcare, it may be the bailouts, it may be the democrats, it maybe 'big government', and it definitely seems to involve Obama.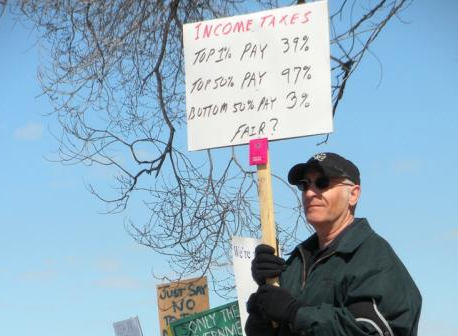 It's an intriguing phenomenon, and I thought I might devote a few words to it. After all, at least two things seem to suggest, at first glance, a kinship between me and them: some manner of 'opposition to government per se', and some manner of fondness for tea.
On the first point, consider an account of the march here (found via Sociological Images): what is particularly of note is this:
"I would say that the spine of this protest is not any well considered opposition to health care, but to taxes, and to the idea of government itself…one theme that seems to be emerging…is that there is no difference between Obama and George W. Bush…When they protest big government," they are not Republicans, or even conservatives in the conventional sense of the word. They are defenders of personal liberty against a one party state linked to a secret global system, a state that floods a nation of good white working people with illegal immigrants and freeloading welfare cheats"
Now, of course this can be overstated – a commenter says, correctly, "These people aren't anarchists" – before going on, bafflingly, to say "and we should be thankful for that. Then they'd be really dangerous." 'Really dangerous' here presumably means something like 'having a smaller history of violence against civilian persons than almost any other political grouping, and far less than most of the tendencies that were manifested at the march'.
But anyway. Anarchists are already bedevilled by the need to differentiate themselves from anarcho-capitalists, who also use the same term, 'freedom', in what amounts to a very different way. To understand how people who I would likely disagree with on pretty much all particular points of politics can raise what seem like formally similar cries requires, I think, unpacking what psychologically terms like 'freedom' mean to different people.